Lamp holder, Lamp socket, Crimping tool, Optical lens, Lens module, DSC lens
We are a leading Lamp holder and Lamp socket manufacturer specialized in Lamp holder, Lens module, Lamp socket, Crimping tool, DSC lens, Optical lens, Plastic lens, Aspheric lens, and camera module. K.S. Terminals Inc, an ISO 9001 & QS 9000 certified company, has been contributing the best professional skills in the connectors and terminals manufacturing in the past 30 years. For providing the design flexibility, cost-effective reliability and mistake-proof capability, the BMC series are designed and produced for your products' efficient installation and reliable performance.
Plastic lens, Aspheric lens, Camera module, Lamp holder and socket manufacturer
KST intends to promote own-production capability of mold, tooling, jigs. We have established a Tool Shop, introducing all kinds of high class, precise mother machines from European countries and USA such as CNC wire cutting M/C, CNC machine center, CNC high speed jig boring M/C, two/three dimension measuring instrument... etc., to raise up tool production's precision / efficiency and self control ability. Presently, KST has controlled the precision processing technique of 3C Titanium thin wall products, tooling design and manufacturing capability, expected to become an international level professional manufacture. OEM and ODM are welcome. Please send us your inquiry today regarding our Lamp holder, Lamp socket, Crimping tool, and other products.
Lamp holder Crimping tool Lamp socket
Lens module Optical lens DSC lens Lamp holder manufacturer
Aspheric lens Plastic lens Camera module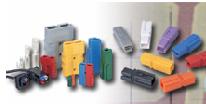 K.S. TERMINALS INC.
CHANG HWA, TAIWAN, R.O.C
TEL: 886-4758-0001 FAX: 886-4758-0003
exp@ksterminals.com.tw